New road named after Foggy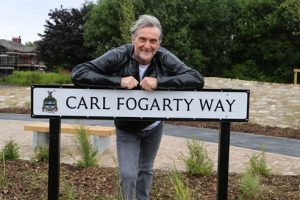 Foggy made sure a new road named in his honour was opened in style.
He unveiled the new Carl Fogarty Way in his own distinctive way, setting off on his custom-made CM Foggy Edition Spitfire to be the first to ride along the road in his home town of Blackburn.
After inspecting the new road, Carl officially declared it open by riding through ceremonial tape held by his wife Michaela and daughter Claudia and then giving his bike a spin, throwing in a few wheelies for good measure. He even got to take home one of the road signs to mark the occasion.
Carl was specially chosen to have the new road named after him to celebrate his achievements as a local legend.
He said: "I've won quite a few awards in my life but this honour is a bit different! It's brilliant to see your name on a road sign and it's great to be the first to ride along it on the Foggy Spitfire. It feels amazing, it really does -, it's not every day you get a road named after you, especially in your home town. There's no word to describe it, it's a massive honour.
"Having the road to myself for a moment before we let all the traffic through felt really special. It's my road!"
Councillor Phil Riley, Executive Member for Growth and Development, said: "Carl Fogarty is a local legend and this seemed a great way to celebrate him and everything he was given to the borough. We're very proud to name this road after him and it's been a fantastic way to open it – although I would strongly advise motorists not to try and copy Carl when they are travelling down it!
Carl Fogarty Way runs for 600m near Blackburn town centre between Gorse Street and the Red Lion Roundabout, past Burnley Road near the Tesco store.