Foggy puts best footstool forward!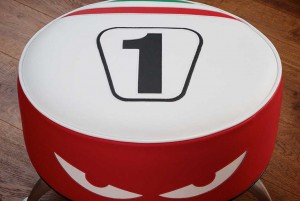 Carl Fogarty is swapping footpegs for footstools with the launch of an official Foggy footstool as part of Vintage 60's Motoring Legends Collection.
The footstool design is based on Carl's 1999 World Superbike title-winning bike and is hand-made in the UK from Italian leather.
It measures 46cm diameter by 34cm overall height and features the trademark Foggy Eyes logo.
Carl said: "I would be expected to say this, but the footstool is very cool and awesome quality. It now has pride of place in my games room and it's the first thing that people ask me about."
Vintage 60 director, Lincoln Chillman, added: "We are very proud of this new association with Carl, who fits our Motoring Legends Collection brand perfectly. Look out for more premium Foggy products, which are in the pipeline."
The stools cost £439 (including VAT) plus shipping worldwide, and can be ordered from www.vintage60.com