Carl and CCM launch Foggy Edition Spitfire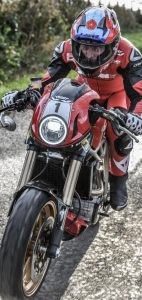 Carl Fogarty has joined CCM Motorcycles as a brand ambassador and consultant. To mark the collaboration CCM and Carl have developed a limited edition of just 300 Foggy Edition versions of their highly-acclaimed Spitfire series.
The Foggy Edition Spitfire model will be first seen in the flesh on Saturday, November 17th on CCM's stand at Motorcycle Live at the NEC, Birmingham.
"I have been a massive admirer of CCM's progress over the last few years and love the retro-look bikes they have been producing," said Carl, who has been appointed Director of Performance. "I go way back with CCM and have always been close friends with the Clews family, who started the company. So when the chance came up to work with them again I saw a great opportunity to support a British manufacturer that is close to my heart.
"I'm really happy with the Foggy Edition Spitfire. The idea was to add a bit of my own personality and racing heritage to a cool range that has already proved such a big success with the public. It's a bike that you can take to a track day with your mates and then ride straight to the café for a coffee!"
CCM managing director, Austin Clews, added: "Carl has been a great personal close friend of mine for many years now and we both feel that now is the right time for Carl to get involved, at a time when CCM is venturing more and more into the road bike side of UK and international markets. This offers the chance not only for Carl to introduce CCM to a wider worldwide audience but also for Carl to be directly involved and influence the way CCMs are designed in the future. This is a very exciting time for us both and we intend to maximise Carl's impact to help the future growth of CCM."
The 300 Foggy Edition Spitfires feature:
Fully machined, lightweight 17″ wheels
Twin 4-pot brake calipers
Full carbon, race-look front mudguard
Black hard-anodised finishing parts
Full carbon front race cowl with subtle carbon weave reveals
Full carbon seat pod with hade made seat
Under-seat exhaust with all new 2-into-1 system leading to carbon silencer
Carl will be appearing at the CCM stand at Motorcycle Live on November 17, 23 and 25.