The World According to Foggy book tour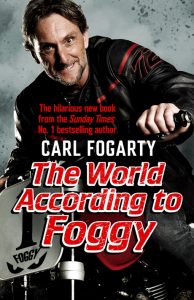 CARL is back on the road – for a series of up-close-and-personal shows to promote his new book, The World According to Foggy.
The 7-time motorcycle racing world champion and winner of I'm A Celebrity … Get Me Out of Here! will be appearing at five venues across the country in May.
The shows coincide with the publication of his new book on April 19th – a rip-roaring romp through the weird and wonderful world of this treasured sporting icon.
Carl will be revealing many hilarious untold stories – on his life inside bike racing, his treasured time in the jungle and his everyday madcap world – as well as answering questions from the audience.
He said: "Writing this book was so much fun. I want people to see the real me – not the man I used to be when I was hell-bent on winning bike races. It will appeal to motorsport fans but also the wider audience that got to know me on I'm A Celebrity. Hopefully the fun-loving Foggy shines through loud and clear in the book and this is what people will see in the live shows, too."
The dates are:
May 1st – Scarborough Spa
May 11th – Six Acres, Tong, Bradford
May 15th – The Courtyard, Hereford SOLD OUT
May 17th – Broadway Theatre, Peterborough
May 18th – Lancastrian Suite, Gateshead
Tickets are priced at £25, or £35 for a picture with Carl, or £45 for a picture and signed copy of the book.
Please note, the May 15th date at Hereford has already sold out.
To pre-order copies of the book got to: https://goo.gl/TYsqtN